In today's internet-save world, if you're running an organization or community, a website can be an effective point of contact for your users or followers. And this goes for religious and spiritual communities as well that can benefit a lot from a professional website tailored to their needs.
So if you're looking to establish or update such a website, take a look at this list of elegant-looking WordPress themes. Through most of these themes are designed for church websites, you can use them to create website for mosques, synagogues, temples, or any kind of religious or non-profit organizations.
The list comprises of both free as well as premium WordPress themes offering different features and a variety of elements. Take a look at the list to know more about each theme and see which one would suit you the best.
55 Free & High Quality WordPress Themes
55 Free & High Quality WordPress Themes
Even though there are thousands of WordPress Themes available all over the web, it's still challenging to choose "the one". WordPress... Read more
Grace is a nice clean template for churches, Christian prayer groups, charity and non-profit organizations. It has a useful easy event calendar to notify visitors about upcoming church events.
Preview Grace WordPress Theme.
This church theme is user-friendly and readable. It has a beautiful combination of soft color scheme and nice typography.
Preview Jesus church WordPress Theme.
HelpingHands is a powerful charity and donation theme for WordPress. You can easily edit the site and collect donations with PayPal or other payment processing systems.
Preview HelpingHands WordPress Theme.
Christian church theme comes with everything you may need for a modern clean church website. It has even Bootstrap functionality, audio player and video integration, several sliders to choose from, and archives.
Preview Christian church WordPress Theme.
Adore Church is an SEO-optimized WordPress theme with an event calendar and a blog. It has unlimited color options, 150 line icons, and Google fonts to customize the design for your own needs.
Preview Adore Church WordPress Theme.
Pure white background and slider images with floating light are amazing for a church website. Main website content is divided into three columns and combined with images.
Preview Right Way WordPress Theme.
This amazing theme for charity organizations and churches features nice image background, donation form, donation counter, about us area, image gallery, and easy contact form.
Preview Angel WordPress Theme.
Salvation is a nice church WordPress theme with pink colors. It features an event management system, a donation form, and custom widgets.
Preview Salvation WordPress Theme.
Bright Path is a nice clean theme for WordPress with a user-friendly design. Your visitors with find all the necessary information quickly and easily there.
Preview Bright Path WordPress Theme.
Pastor'e is a clean minimalistic WordPress theme for churches, Christian, prayer groups, charity and non-profit organizations.
Preview Pastor'e WordPress Theme.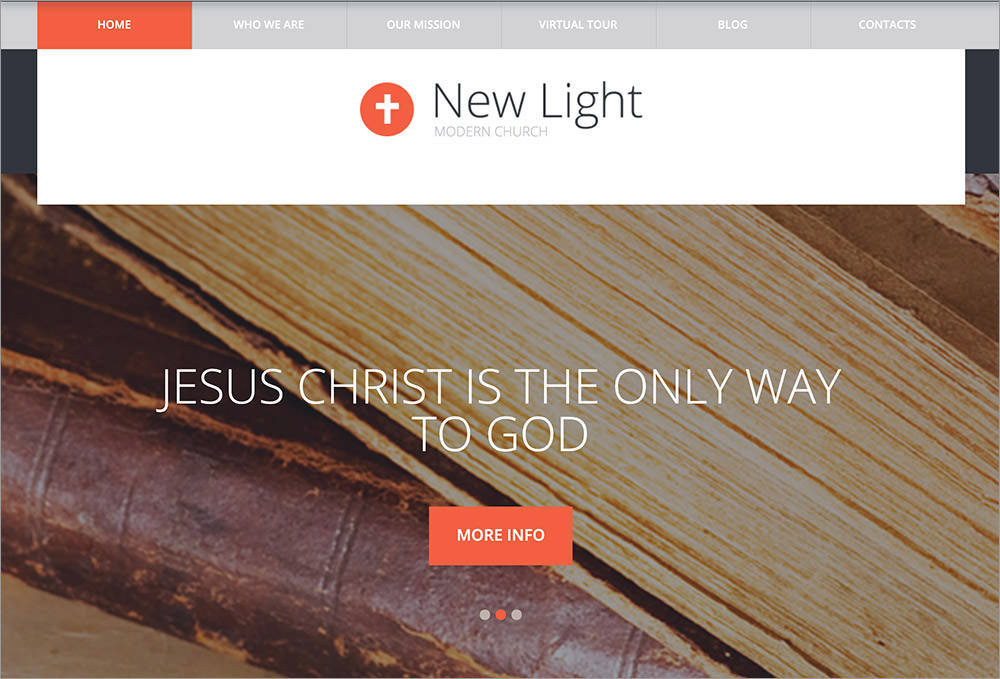 Love, peace, and harmony it's all about a perfect religious site. The template is well-designed and coded to fit your needs perfectly.
Preview Enlightenment WordPress Theme.
Hopes is a powerful multipurpose WordPress theme with advanced features. It has a testimonials area, event calendar, blog, and donations.
Preview Hopes WordPress Theme.
Forgiven is a modern website for churches with podcast area, bold image slider, event calendar and counter, showing how much time till the next event is left.
Preview Forgiven WordPress Theme.
This amazing yet simple church theme will be suitable for any religious organization. It has portfolio, blog, audio player and video integration.
Preview Modern Church WordPress Theme.
Church and Events, the name of this WordPress site template says for itself. The template is made for churches, but it will be suiatble for any kind of business: medical, political, nonprofit, gym, education and more.